Open since 1930, Charcutería La Pineda is one of those very authentic grocery stores / bars, where time does not seem to have passed and where fresh, varied and high quality products are the star of the show.
This happens when walking through the old town of Barcelona: the wonderful possibility of discovering hidden corners, hidden treasures and bars that are part of the identity of this exciting city.
And although La Pineda Pineda is not trapped between small streets (rather, it is in one of the busiest streets of the Gothic, Carrer del Pi), its spirit of bygone times distinguishes it from all the other offer on this street.
¡Pasen y vean!
A canopy that indicates its year of birth and a window in which his products can already be seen, added to the sausages that hang on the door is the best invitation to enter.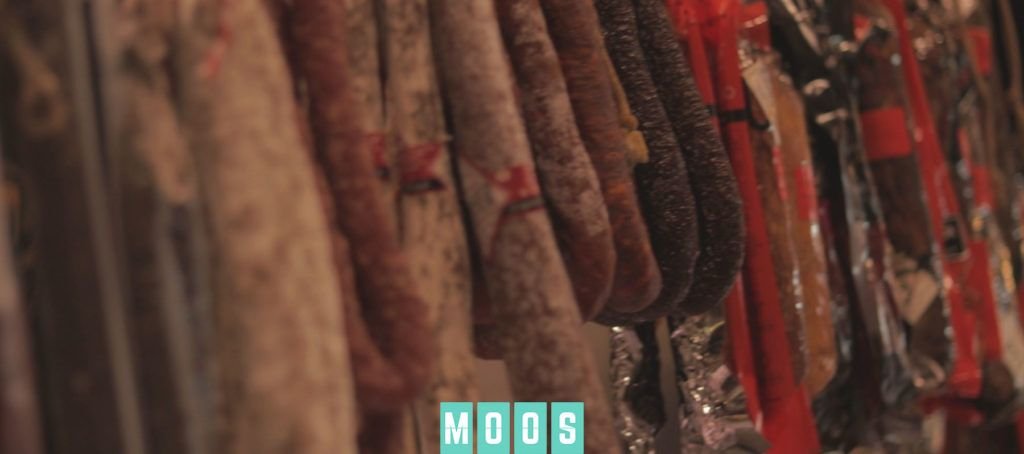 And inside it gets even better: sausages, fuets, sausages, hams that hang from the ceiling over a fridge that stores more variety of cold cuts and cheeses. The walls that are filled with wines, beers, oils, condiments and preserves surround a few tables, those of marble with iron legs, that call you to sit down and enjoy a good time.
And above that, as on a mezzanine, a world of bottles of all colors and shapes. The best welcome to a place where good food and drinks are guaranteed.
Everything in La Pineda breathes the air of other times.
Small and cozy, the simple act of entering is already a treat for the eyes. But the best is yet to come: because when you sit down and ask for any of their products, the flavors are so good that it makes you wonder why you didn't come to eat here before. It always starts with the beverages. Wines, vermouth, beer, cava … there is something for everyone.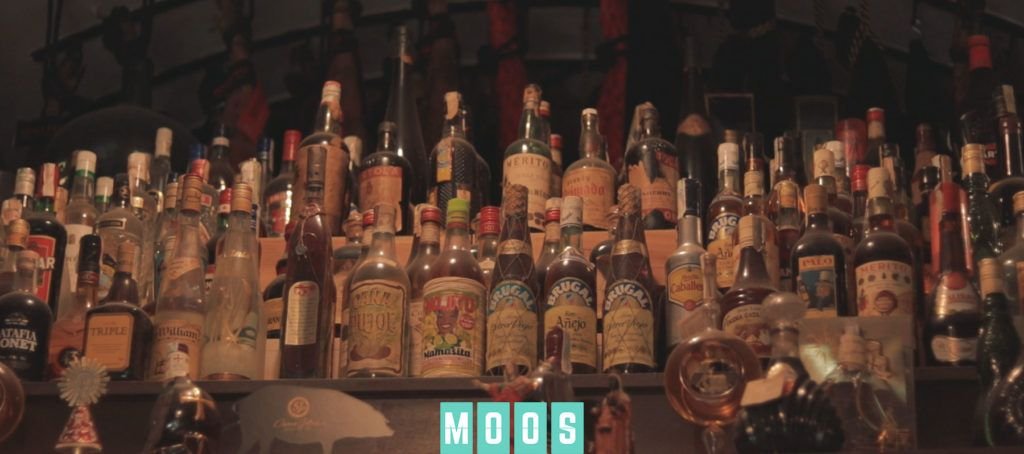 But also, at La Pineda, the staff, super caring and friendly, advises you to drink that wine that best suits your palate or your desire for that day. The options are many and surely you will find something that is ideal for you.
Now, when it is time for food, the experience reaches its climax. We challenge you to sit at one of their tables, take the menu and choose in 1 minute what you are going to order, without doubting a second of your choice.
We think it will be difficult for you to do it. Because there are so many options and they all sound so tasty, that you are going to want everything at La Pineda.
A comeeeeeer.
From cheese boards and sausages, through preserves and olives of all shapes, colors and flavors, to their sandwiches, one tastier than the other, in this 90-year-old grocery store there is no shortage of flavors, and good ones.
Separate mention for the variety of hams: do not hesitate to consult with the people of La Pineda who will advise you so that you can choose according to the price and quality you are looking for.
The products offered are not only Catalan: cheeses, sausages, hams also arrive from different corners of Spain … you can take a gastronomic trip through the best flavors of these lands without leaving your chair.
Let's be clear: this is not a super cheap place. Quality has a price, but without exaggeration.
The prices are great for what is offered, and according to your budget, you can enjoy a delicious sandwich for less than what a hamburger costs in one of those fast food chains. And in a unique environment, which you will surely take more than one photo of.
The service at La Pineda is noteworthy: there has not been a single time (and we have already been here more than once) when we have not been treated with care and dedication.
We were lucky to meet María and she knew how to guide us, within the great variety of proposals they have, to help us choose what best suits our tastes and desires.
And always with a smile and a lot of kindness. And that is the finishing touch for an experience that you cannot miss if you are in Barcelona.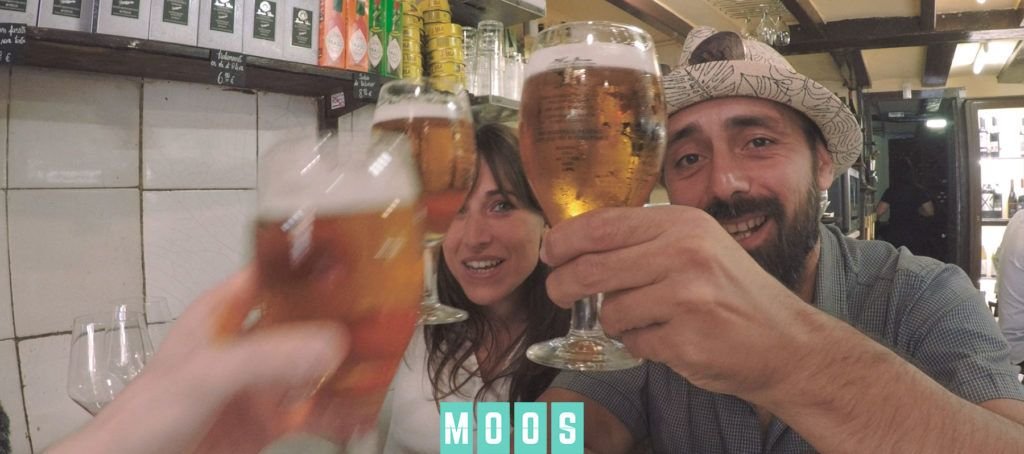 Tip: La Pineda in not only a restaurant, it also works as a grocery store or warehouse. So if you are just passing by, or prefer to experience a delicious "pica-pica" (snacks) with the best products at home, you can stop by and buy your sausages and cheeses, as in any delicatessen in the city.
Muy cerca de La Pineda podrás descubrir un lugar encantador donde entre otras cosas encontrarás la Basílica de Santa María del Pi. No te pierdas este paseo.
Acá te dejamos los datos para que puedas llegar sin problemas a esta fantástica pastelería: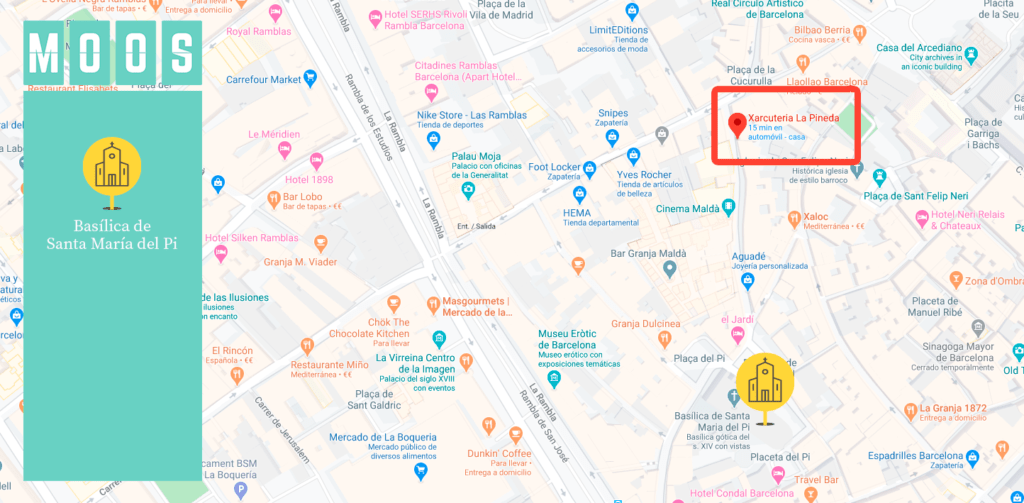 CHARCUTERIA
LA PINEDA
Carrer del Pi 16, Barrio Gótico
Telephone 933 02 43 93
Opening Hours:
Monday to Saturday, from 9am to 9:30pm
Sundays from 10am to 3pm.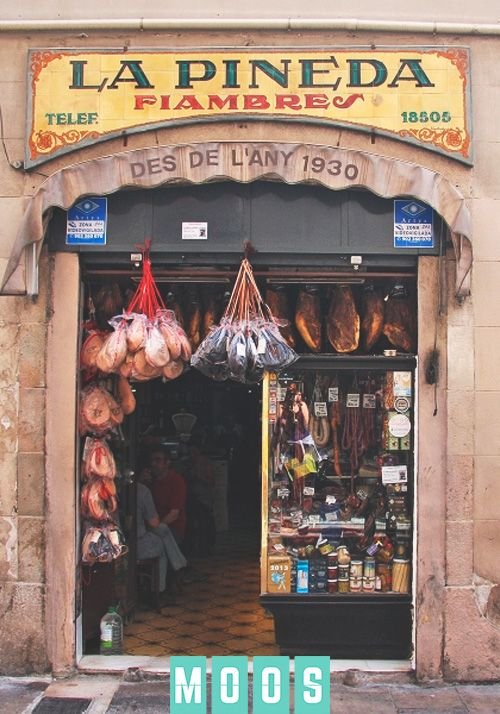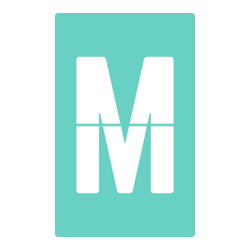 We are sorry that this post was not useful for you!
Let us improve this post!
Tell us how we can improve this post?