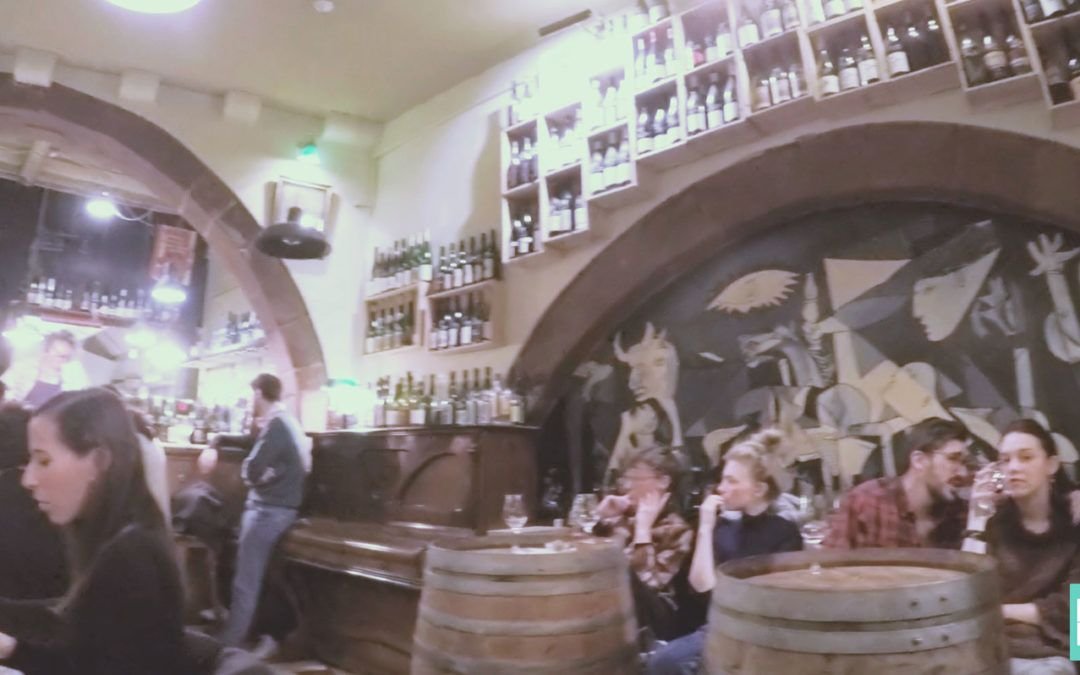 Among the streets of the Born district is this bar with a French spirit, which makes natural wines its main star. An ideal place to enjoy a good drink in good company.
On that night we were looking for a place to have a drink. Then, Simone said: "Let's go to L'Ànima del Vi". We hadn't been there before, but he knew it and knew what he was talking about. It is a beautiful corner of the Born where you can drink some good wines.
He didn't need to say more, we were already convinced. And we crossed Via Laietana, to enter the world of narrow streets of the Born.
There it was, a few meters from Carrer de L'Argenteria, in Vigatans. A bar of those that we like: wooden door, barrel at the entrance, marble tables, a bar at the back and bottles.
Bottles of all sizes, shapes and colors, that filled the walls. On a blackboard, on the bar, the proposals for tapas and appetizers. And all over the place, a mix of old winery with French bistrot that we loved.
L'Anima del Vi was packed.
It was Friday and the night had just begun, but there were almost no empty tables. We found a free one, with a lot of luck, and we went for it.
The atmosphere was ideal. Groups of friends, couples, people at the bar, and glasses in some cases and bottles of wine to share in others, which were enjoyed at each table.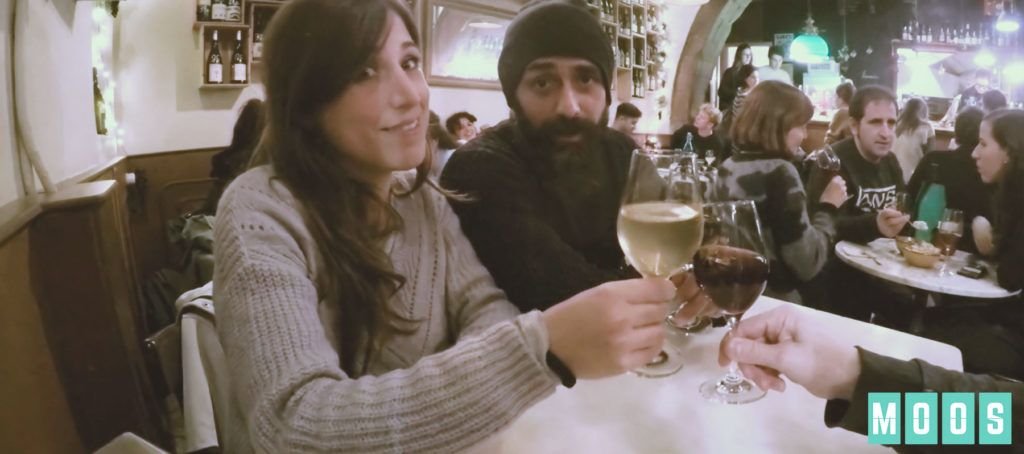 It was time to order and since we did not know what particular wine we wanted to try, they advised us according to our tastes and desire for that night.
Two full-bodied reds for the boys, a fruity white for the girl. And something to eat, we were on an empty stomach and it was good to accompany the glass with something delicious.
We chose some olives and a portion of ham from the blackboard. And it must be said: nothing we tried that night disappointed us. Quite the contrary: everything they put on our table was a pleasure for the palate.
The variety of olives was great and the ham… well, the ham was delicious. And cut so fine! The perfect accompaniment to the glasses of wine that we savor with pleasure, in that atmosphere so relaxed and cheerful at the same time. A place where we could spend hours, between talks and toasts.
From France with love
In 2006 L'Anima del Vi opened in Barcelona. It is a project born from the wishes of its owners Núria and Benoît to set up a bar (he, a student of oenology and viticulture; and she, a musician and viola teacher).
France was the place where they met and were united by the love of gastronomy and wines, they decided to give life to this project that remains firm and recognized in the old part of the city.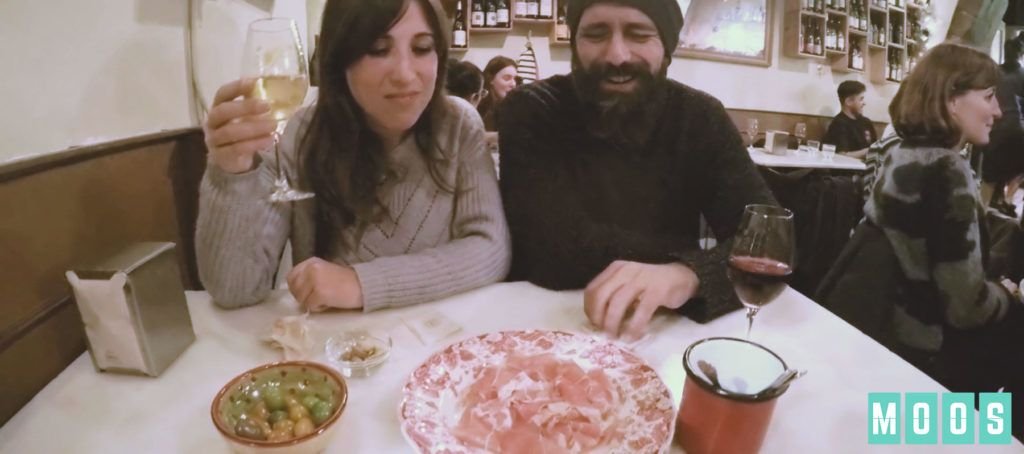 But L'Anima del Vi is not just another bar where you can have a glass of wine. The key difference of this proposal lies in creating a space to enjoy the so-called "natural wines".
Each bottle that is opened in this place comes from producers, both French and Spanish, who are dedicated to making wines from the fermentation of grape juice, and nothing else
As they say on their own website, "the vast majority of our wines are made from grapes collected by hand, from voluntarily limited yields and from an agriculture that rejects any type of herbicide, phytosanitary products or synthetic chemical fertilizers".
The result: a natural wine born from a healthy and balanced grape.
Without resorting to distributors, the owners seek direct contact with the producer and take care of such important details as transport from the winery to the premises.
Even inside L'Anima del Vi, the air conditioning is kept at a certain temperature to take care of the quality of the wines stored within its walls at all times.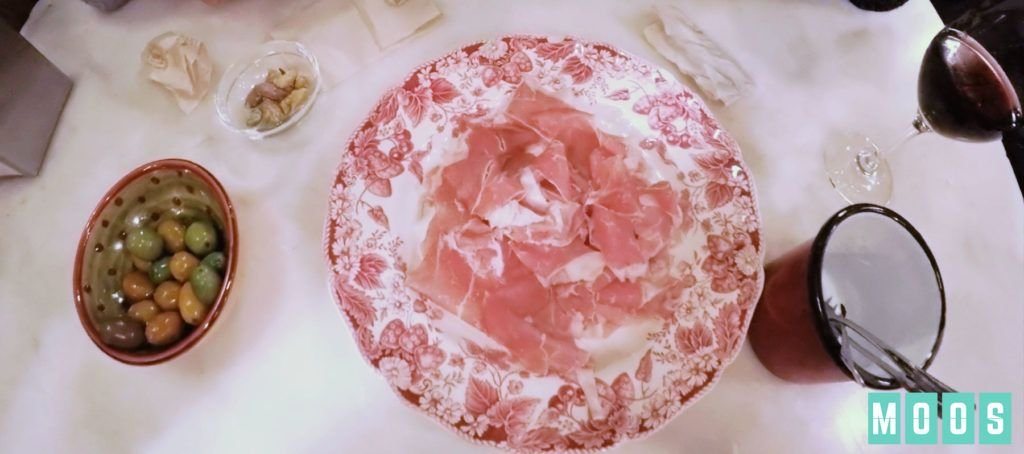 And so much care, so much care and attention are appreciated.
One notices, just by entering, that this is a place where the quality of the product is valued and also, the customer experience. A space where everything does matter.
The idea of its owners is clear and they know how to transmit it to those who visit their bar.
Having a wine at L'Ànima del Vi is much more than that: it is a cozy and intimate space, where you can get closer to the experience of enjoying the authentic and alive which comes from the land and with lots of quality.
Before or after a good glass of wine at L'Anima del Vi, do not miss one of the "carassas" that are preserved in the neighborhood. If you want to know what a carasa is and its history, check out this article.
Here's some info about the place: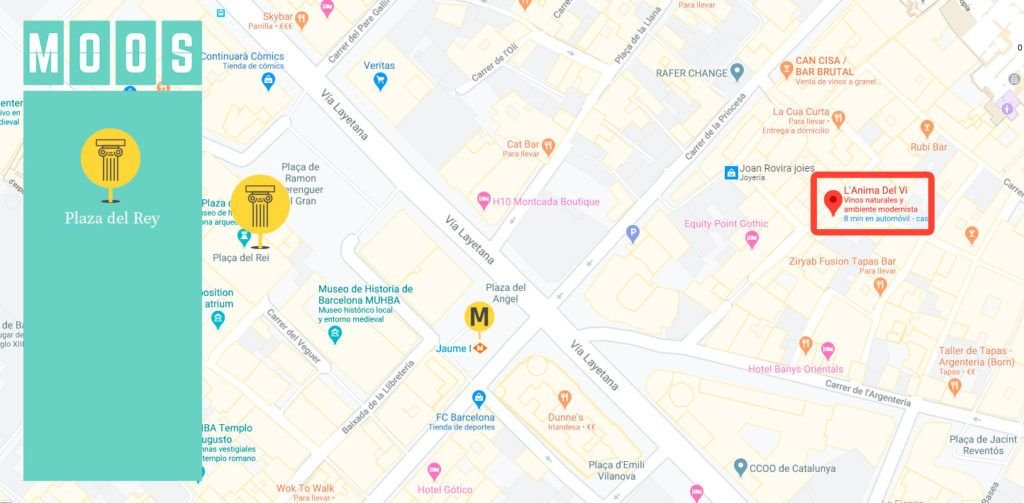 L'ANIMA DEL VI
Carrer dels Vigatans 8, Barrio del Born
Telephone 933 68 36 12
Opening hours: Wednesday to Saturday, from 7pm.