A few meters from the Barcelona City Council offices, behind wooden doors filled with Street art, is "El Cuiner de Damasc" (Carrer dels Templers 2), recognized throughout Barcelona as the place where the best kebabs are served. Fresh products, homemade preparation and the best vibe of its people, will have you come back more than once.
Our friend Facundo, an Argentine who came to Barcelona more than 16 years ago, had told us: "The best kebab in Barcelona is in the Placa Sant Miquel". And if someone affirms something so emphatically, especially if it is food, we are going to check it out.
The truth is that Barcelona is full of places like this. A kebab for a good price is the ideal proposal when you are hungry and not on a big budget.
Or in a hurry and looking for a two-course lunch and dessert (same goes for dinner).
We confess we have tried several kebabs, that's why we were intrigued by this place, so centric and so recommended. And I say "so recommended", because later we discovered that not only was Facundo a regular and a fan of these kebabs, but there were many more who talked about him. So, we went there one night to see if this place deserved so much praise.
Arriving at "El Cuiner de Damasc"
So we reached the doors of "El Cuiner de Damasc", at the corner of Carrer dels Templers and Carrer del Palau, in the Gothic Quarter. A few meters away is the Placa de Sant Miquel, with its famous sculpture paying tribute to the castellers and the Barcelona City Council.
There cannot be something more central in the city.
As soon as we entered we were greeted by a queue of people waiting to make their order.
Yes, there is a queue.
And yes, it can be long. The queue and the wait.
But it does not matter. Here at the Cuiner de Damasc you wait for how long is necessary. Because it's worth it.
Much.
As much as to eat the best kebab in Barcelona.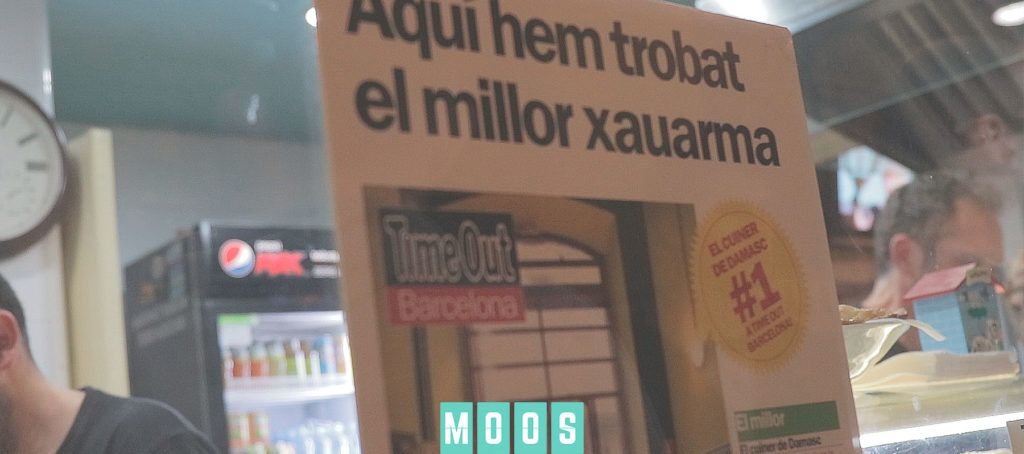 Those who arrive already know that this is the possible scenario, especially if one goes in after 9pm.
The Cuiner closes at 11pm; so around 10:30 pm no one else can enter.
The lucky ones who have stayed inside will receive their prize, which is buying and enjoying the best kebab in town. Those who arrive later will have to return another day, but earlier.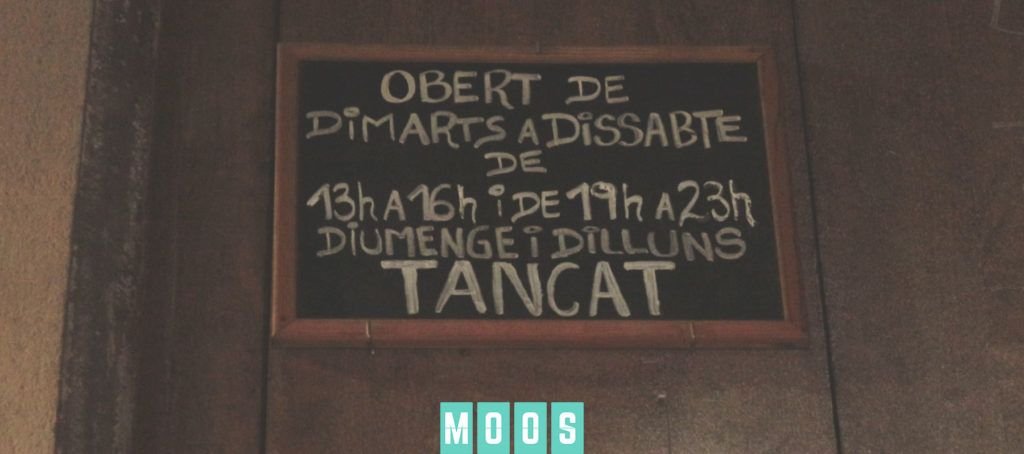 There are some places that achieve that fame and can afford to close, even knowing that there are people left out. Or even not having a large sign with your name on the facade for them to find.
The thing is that El Cuiner de Damasc does not need that. Their fame precedes them.
And their clients accept it. Because in return, this place offers you the warmth of its service, the freshest products and flavors that make you want to visit again.
At the end of the day, isn't that what we are looking for in a good food place? It could be said that they know how to apply this infallible formula and it shows.
Their team and products
Salem is the owner, who arrived from Syria years ago, and who welcomes his customers. Sympathetic and sociable, he can be seen among the tables chatting with people.
Carlos and Carles are behind the counter, preparing and cooking the kebabs one by one. There is a phrase that Carlos told us when we met him, that sums it up: "I don't have clients, I have friends."
And it's true. He makes you feel like a long-time friend, while putting all the dedication to that next kebab that will be yours in a few minutes.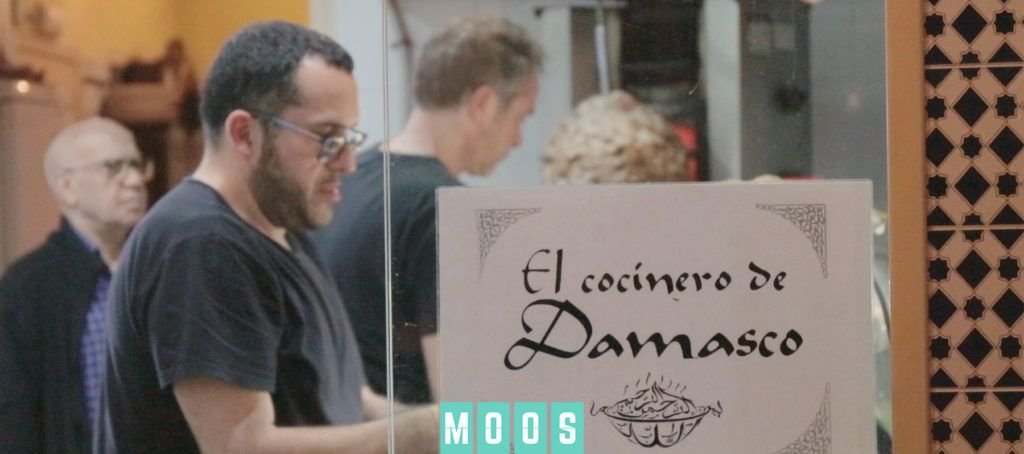 The other key is this word: "homemade".
They make everything, from the pita bread to the döner kebab that spins around against the fire, ready be cooked.
They prepare the combination of turkey and lamb meats themselves, which gets roasted. And it is Carlos who is responsible for ensuring that they are well done, juicy and pushed against the fire. Work and dedication.
And then came the flavor. Incredible.
Thanks to the perfect combination of bread, meat, vegetables and the sauce they prepare. At this point I am just speechless, and I do ask you to go and try it.
As our friend Facundo once told us: "Go and try it."
We tell you the same, go and try it, do it and you will know what we are talking about.
If you are enjoying the kebab from El Cuiner de Damasc, walk a few steps and reach the Plaça Sant Miquel and then continue your tour of the Gothic Quarter, which you will love.
Here's how to find the place if you are walking around the Gothic Quarter: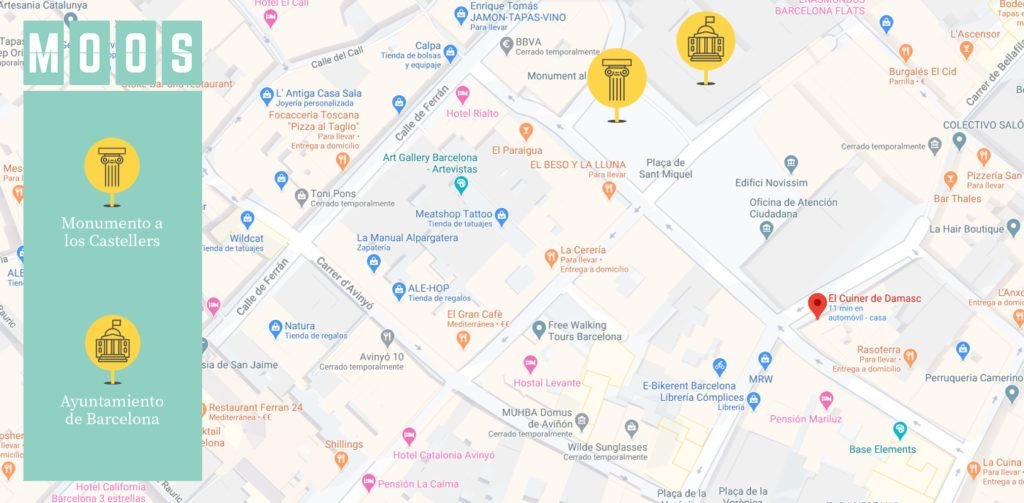 El Cuiner de Damasc
Carrer dels Templers 2, Barrio Gótico, Barcelona.
Telephone 936 65 12 66
Opening hours: Tuesday to Saturday from 1:00 p.m. to 4:00 p.m. and from 7:00 p.m. to 11:00 p.m.
Links: it does not have any website or social networks