In the heart of Carrer Mercé in the Gothic Quarter, is Tasca El Corral (Carrer de la Mercé 17), a tavern where tapas full of flavor and one of the best priced homemade vermouths at in Barcelona, ​​are the protagonists.
WINTER NIGHT IN BARCELONA
We did this visit on a typical Catalan winter night, with the desire to go out and eat something delicious in the Old Town of the city.
If we think about it, there's no better plan than to get to TASCA EL CORRAL, in the Gothic Quarter, on Carrer Mercé. A place that never fails, where you always feel welcome and there is a guarantee of good drinking and eating.
It is enough to arrive at its door (rather a gate) of heavy and dark wood, and to see through the windows a tavern that seems to travel back in time, to realize that it is a place to know and try. And it's not just an aesthetic issue: Tasca El Corral has been part of this street and the neighborhood for more than 40 years.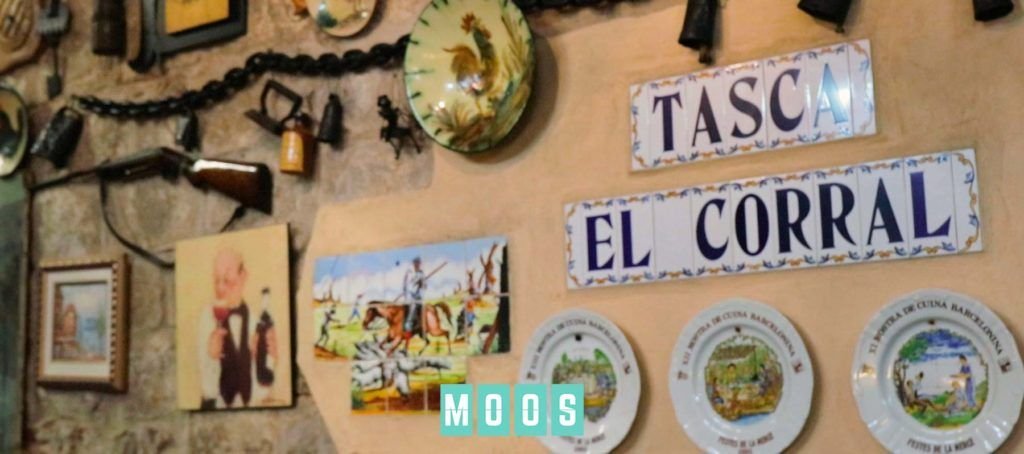 Its walls demonstrate it: they are full of old images, pennants, decorated plates and curious objects, which give it a warmth and a more than special atmosphere. An environment that is embedded in the traditions when it is revealed to us with hams hanging from the ceiling, or with the bar covered by cheeses, olives, sausages… and how could it be otherwise, surrounded by a good variety of bottles.
We only have to find a table, sit on its very rustic wooden benches (which are not the most comfortable and firm you can find), and start enjoying.
A VERMOUTH?
And of course, the initial order must be the Vermouth.
Ordering a glass, or why not, a whole bottle, you will notice three things that will make you happy. First, that the Tasca el Corral vermouth is homemade, second that it is delicious … and third that it is at a very good price !!
Of course, if you are more of a beer o wine person, here you can order whatever you want. In this bar, alcohol is not lacking, and the atmosphere begins to take shape.
There is something you will ever find in this place: groups of friends meeting and having a great time.
The place is a big "L" and in its second part, after the bathroom, is where the room with the most tables is located. You will see that these are long and spacious, so they invite memorable meetings.
If the place is full you can you can share the table with others: it is a great opportunity to meet new people while enjoying the music of a group of artists, who often play and sing to have fun and delight everyone present.
So in this bar it is not strange to be surrounded by celebrations, birthdays, bachelor parties or any event that brings together people who want to have fun and toast. And since we are talking about toasting, other drinks that regulars enjoy around these tables are "Leche de pantera" (we can translate this as "panther milk") or poured cider, something very typical of Asturias, but also enjoyed in these lands.
Pink Panther
If you are wondering at the moment what Panther Milk is, here are some facts.
It is a very Spanish cocktail, famous in the 70s, that contains two basic and main ingredients that are milk and gin, although some can use condensed milk to make it thicker and interesting.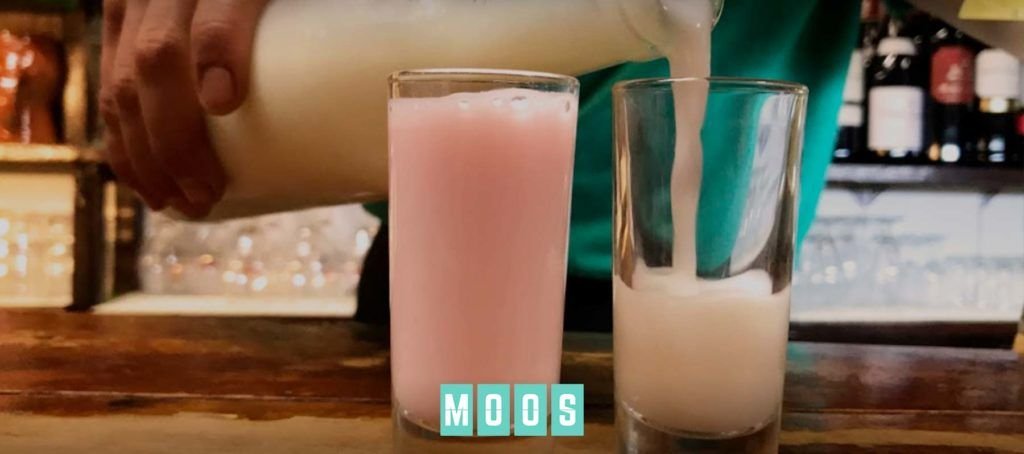 There are varieties that also include, egg white and cinnamon, and in reality, most of the bars that serve this drink have their own recipe.
Here, in Tasca El Corral, a very pink one is served, which makes us think more about the mythical cartoon. Unlike this one, this pink panther is not suitable for children!
AND NOW LET'S EAT
Once the vermouth has arrived at the table, now we only have to order the food.
On the menu you will see that you can choose between a variety of hot or cold tapas (Iberian ham, a variety of cheeses, the inevitable "tortilla"/omelette, "morcilla", chorizo ​​and more) and "torradas" (Pagés bread toast with different ingredients, such as tuna, anchovies, cheeses, peppers, etc.).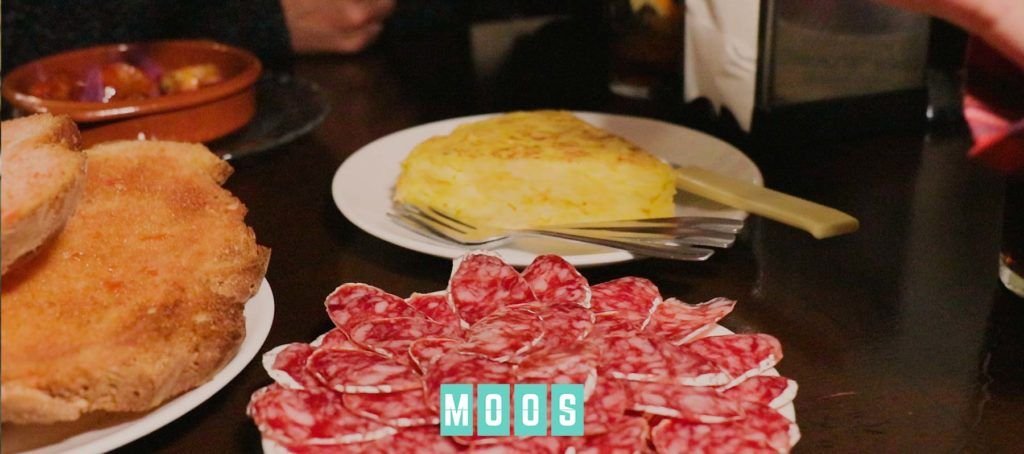 We made our minds quite quickly, and we asked for some classics: "chorizo ​​a la diabla" (like a devil´s chorizo), "tortilla" and two "Catalans" who can never miss: tapa of fuet and bread with tomato!
If you are one of those who want to know a little more, be sure to click on the Fuet and the Bread with Tomatoes, to have more info.
The dishes were arriving at the table, and the scents and flavors conquered us with speed and without effort. The softness of the warm and juicy "tortilla", the Catalan fuet that never disappoints (well, at least it never disappointed us in Tasca el Corral), the bread, which always goes perfectly… but the one that most impacts, without a doubt, is the "chorizo ​​a la diabla".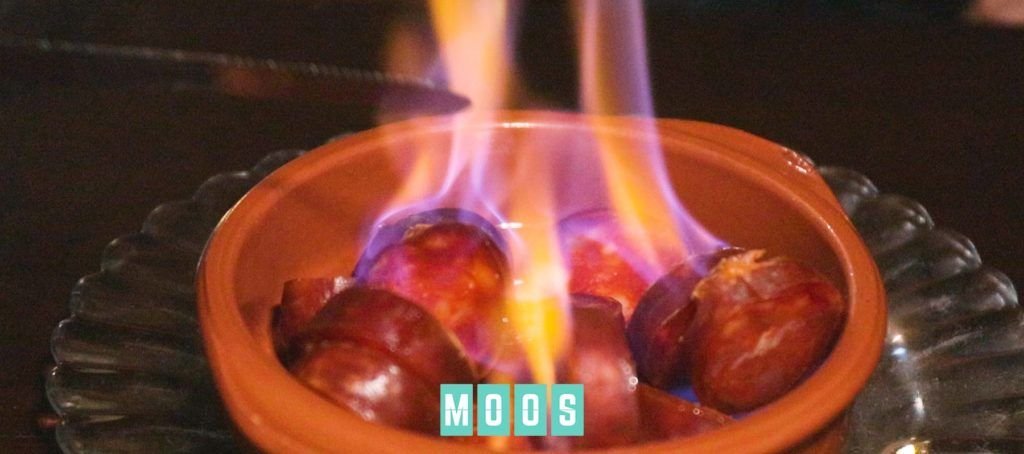 The simple ritual of lighting the fire and burning it on the table is already tempting. With patience, the chorizo ​​is moved with a knife to ensure that the alcohol evaporates and the product absorbs all the flavor. It is crispy on the outside, the aroma is incredible and its intense flavor is something you can not stop trying.
YOUNG AND VERY GOOD VIBRA ENVIRONMENT
Everything that happens in Tasca El Corral has good energy, a nice vibe: from the staff that attends you, friendly and always well-prepared, to the customers, who are always having a good time.
Even the doors of the services speak of the connection between the bar and its visitors. When you get closer you will see that they are covered with passport photos of everyone who passes by. So if you want to leave your mark in this place, do not hesitate to bring yours.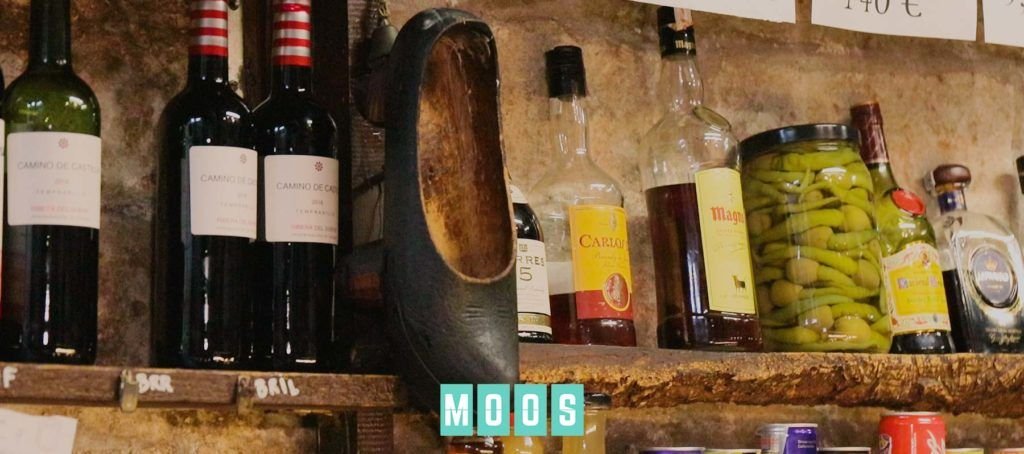 And when paying at the bar, even tips are fun: you have to put the coins in an old shoe, which hangs on the wall behind the bar. Something a little bit difficult to overcome after drinking as it should at Tasca El Corral.
If you want to enjoy this Barcelona classic, we leave you with their details: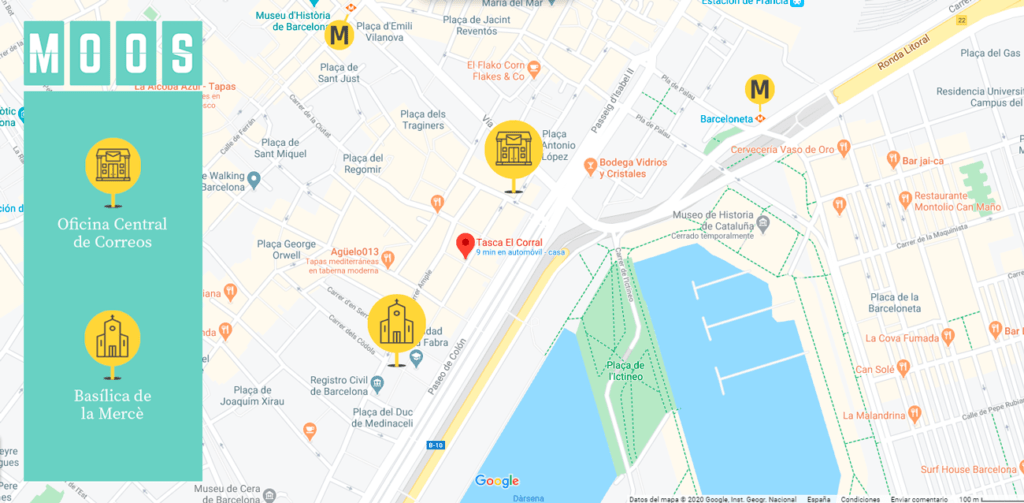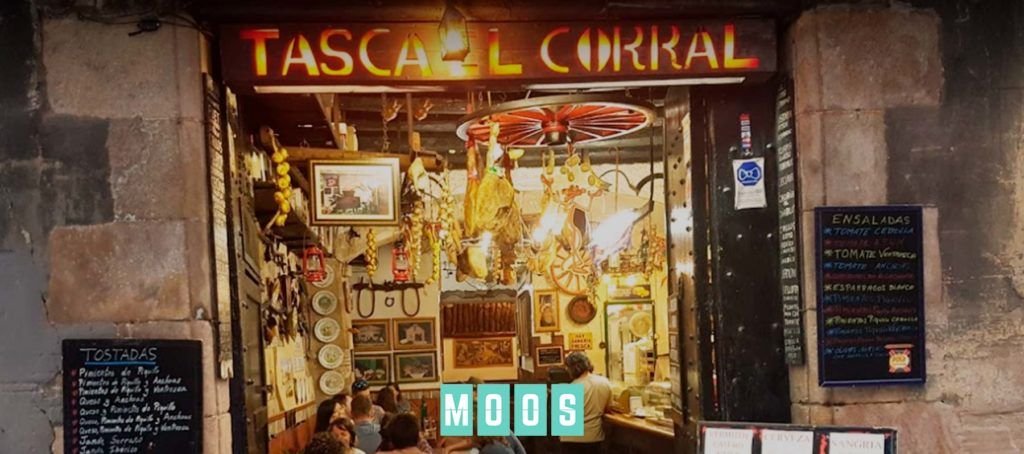 AROUND TASCA EL CORRAL
Tasca El Corral is located in the Gothic Quarter, the birth area of ​​Barcelona and today the city's mandatory tourist center. And the street is Carrer de la Mercè, which has a lot of life, more than anything nightlife.
It is a street to take into account because it has a varied offer of bars and restaurants, which make it a very good destination for those who are looking for a little bustle at Barna nights.
The name comes from the old neighborhood of La Mercè, so called because it contained the convent of the same name, whose church would later become a parish.
The first convent of the Order of Mercè was installed in the mid-13th century (where the General Captaincy is today); and today we can see the church, which had just been built during the 18th century with its dome topped with the image of the Virgen de la Mercè (iconic element of the Barcelona skyline) very close to Tasca el Corral.
An interesting fact for moviegoers: the film "The Perfum" was filmed mostly in Barcelona and Plaça de la Mercè was one of its stages; that is where the protagonist, Jean-Baptiste, was born, under the counter selling the fish from the Parisian market Rue aux Fers.
The streets of the neighborhood knew to be one of the areas of residence of the Barcelona aristocracy during the 18th century, and some of the buildings in the area are testimony to this.
If you like architecture a lot, and you are walking around the neighborhood, we leave you this information: walk to Carrer Ample (the first street parallel to carrer de la Mercè, towards the mountain) and look at number 28 for the Palacio Sessa-Larrard, built between 1772-1778 by the architect Josep Rivas i Margarit..
At that time, it became the home for the Viceroy of Catalonia and Duke of Sessa. The second name, Larrard, will arrive when the building was bought by Joan de Larrard, in 1799, wealthy banker and consul of Denmark. Today it is a school, but its presence tells us that in those years, this wide street (hence its name) was the place where mansions and palaces of the wealthiest families in the city were built.
And this is our article on Tasca el Corral. We hope that we have awakened the desire to try what these people have to offer, that the information we leave you will help you visit this fantastic place and that you tell us about your experience when trying their tapas and drinks.
Greetings and good vibes!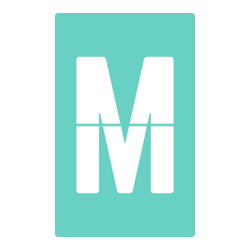 We are sorry that this post was not useful for you!
Let us improve this post!
Tell us how we can improve this post?