Winter is usually the low season for Barcelona (but not for calçots!).You can feel it in its streets and especially on its beaches. We know that we all like to travel in the summer, when it's hot, especially if our destination is on the shores of the Mediterranean Sea. In those days, Barcelona overflows with people of all nationalities, speaking all possible languages, filling every corner of the city.
But from November the landscape changes, and so does Barna's rhythm. The city feels more "local" and, although it's beginning to get colder, it is a pleasure to get lost in the streets of this city that always has something to offer to those who want to know it.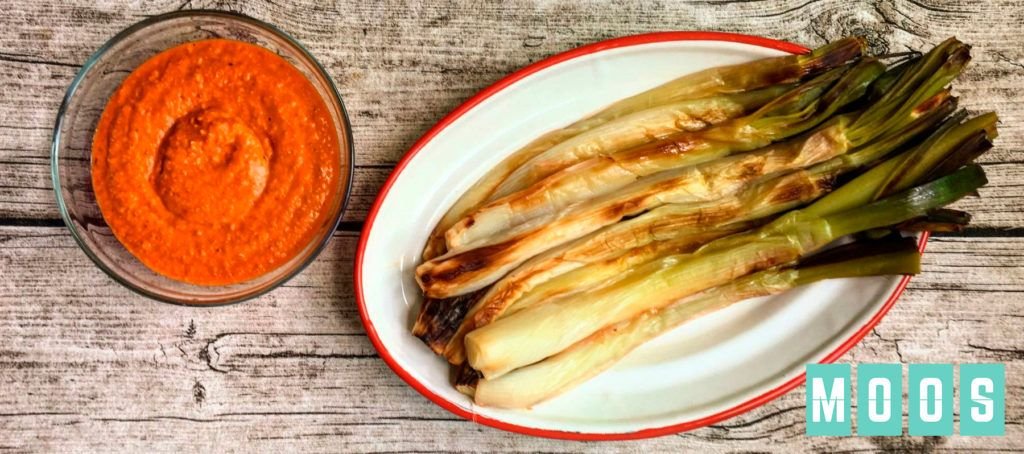 For those winter adventurers, there is a gastronomic surprise that only, and I emphasize ONLY can be enjoyed when it is cold. A very Catalan tradition, which has become a ritual and that you must try if you are in Barcelona: the calçots!
From November to the end of April we are lucky to be able to gobble down a good "calçotada". The ideal plan: get out of Barcelona, ​​and in one of the typical farmhouses, called "masias", found throughout Catalonia, savor this delicacy. You will find that these places are full of locals that usually share this feast with friends and family; and as it is full, it's always good to book in advance because demand is high, especially on weekends.
NOW WHAT IS A CALÇOT?
It is a type of sweet onion, with a little bulb. It has an elongated shape and this is due to the peculiar form of cultivation that is used to obtain it.
It all starts in late fall and early winter, when the seed is planted. The variety that is most popular is the "large Lérida onion".
When June arrives, the cultivation will be finished. Result: a white onion. Hence, the next step is to remove it from the soil and let its leaves and roots dry. What we will have is the bulb. And it is from these bulbs that the calçots will be born, that we can enjoy in almost all the restaurants in Barcelona. Or at home, of course.
Therefore, the bulb is planted between August and October and allowed to grow. When the new shoots are obtained, it is time to apply the technique that gives them their name: they are "wedged" (in spanish the word is "calza"; in catalan "calça"). What does this mean?. Well, it's very simple. Soil is placed around the base to whiten those outbreaks. This is repeated about three or four times, with the aim of lengthening the white part of the onion, until it reaches about 15 or 20 centimeters long. For each bulb you can get between 4 and 12 calçots.
Harvesting is fast and occurs between January and March, approximately.
AN BUMPY START
One of the most widespread versions of the origin of "calçot" as food, takes place in the 19th century. It is said that a peasant from Valls, in the province of Tarragona, named Xat de Benaiges put the onions on the grill, but they burned. Instead of throwing them away, he discovered that by removing the charred exterior, a tender and very tasty delicacy was hidden inside.
TODAY, EATING CALÇOTS IS A WONDERFUL RITUAL.
The menu of a "calçotada", as God commands, includes the "calçots" themselves, as the fist course (it could not be otherwise). They are cooked in the living flame, made with vine branch wood.
They arrive at the table served on tiles and accompanied by two sauces: the "salvitxada" and the "romesco" sauce. They are often confused because they share ingredients, such as toast bread, almonds, oil, or garlic. Anyway, both are incredible and are the perfect accompaniment.
Now, let's eat! And here neither knives nor forks are worth. Hands are our best allies. You have to remove all the burned layer that covers the "calçot", then dip it in the sauce, lift it over your head, open your mouth … and be happy. It is logical that, with such a technique, a lot of sauce ends up on our bibs.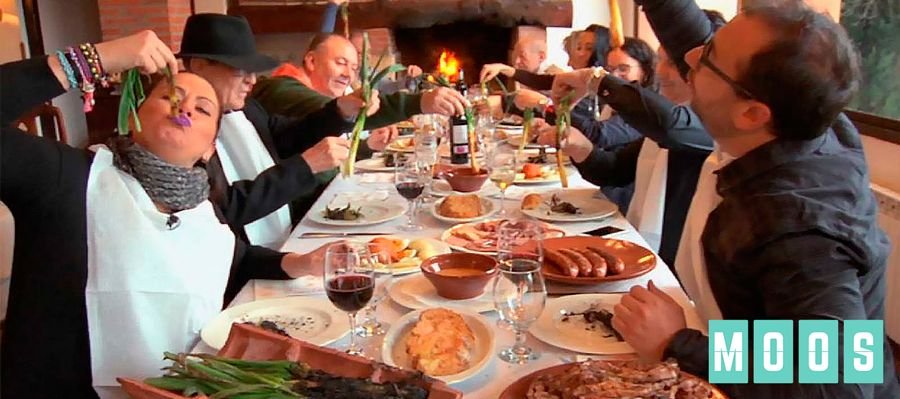 For this reason, a fundamental element, which they will give you in any restaurant you go to eat, is a giant "bib": it protects our clothes and allows us to be free to eat without worries.
Once the first part is finished, in which you can eat about 20 "calçots" per person, the second dish arrives. Hands washed and meat at the table: there is never a shortage of "butifarras" (the catalonian sausages), but there can also be different cuts of pork, veal and other sausages. These meats are cooked with the embers that were left after the "calçots" were cooked.
And all well accompanied by local wines or a good cava. Nothing more Catalan than this!
So now you know: if your trip to Barcelona finds you in the dead of winter, don't forget to make a place on your agenda for some "calçots": it is not only about eating delicious food, it is also taking part in a tradition that is alive and healthy.
Sources: elhuertourbano.net / calsots.com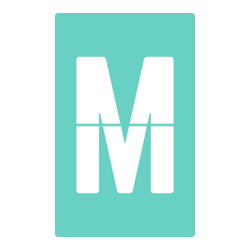 We are sorry that this post was not useful for you!
Let us improve this post!
Tell us how we can improve this post?